1.Which transportation options there are?

The most popular and concenient transportation option now is shipping. But you can also choose railway or trucking.
2.How to check shipping logs?
Customer can check the relevant information on the shipping company's website by entering the booking number and container number.
3.What is short-haul fee?
It refers to the cost of transportation from a factory to our warehouse (Shantou, Yiwu, Shenzhen). Transportation within the same city is free.
4.How to calculate short-haul freight?
Short-haul freight is calculated by volume and weigh. Different distances have different fees.
5.What's a logistic company?
It refers to a client commissioned agency which helps with transportation and customs clearance operations.
6.Can you recommend any logistics companies?
Yes, we can recommend a logistic company depending on the destination port.
7.How to delivery goods by logistic?
After the customer provides us with his logistic company's contact information, we get in touch with it and negotiate the best transportation way and the date of loading.
8.What is booking?
Booking means reserving a place on a ship for further transportation of a container.
9.How booking is made?
Confirm the quantity of goods (net, gross), volume, packaging, marks, delivery time, estimated time of departure, inquiry the best price, compare with the sea freight and customs fee, and other miscellaneous costs. After confirmation of shipping companies and logistic, commissioned by fax to the other party making booking document,booking document indicates the consignor, consignee, notify the person, the port of destination, container and other information in English as well as the amount of Goods and so on.
10.What is S/O? What is S/O Number?
"1. S/O is used to identify what should be shipped from the warehouse and to whom and where it should be shipped. The shipping order usually accompanies the shipment, so that the recipient can verify that the items listed were received.
2. S/O number is the bill of lading number. It can only be provided by the shipping company, and is used to check schedules, clearance, delivery etc."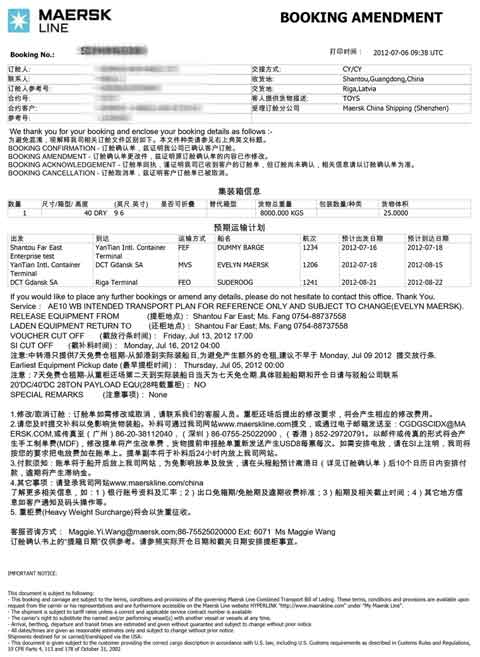 11.What is CO?
A Certificate of Origin is a document used in international trade. It traditionally states from what country the shipped goods originate.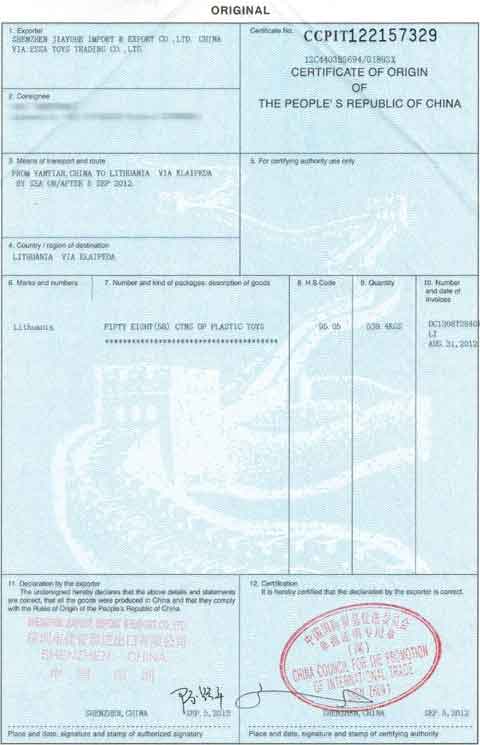 12.What is FA?
Form A Certificate of Origin (FA) is used to support certain products to claim for preferential tariff entry into a number of developed countries under the Generalised Systems of Preferences (GSP).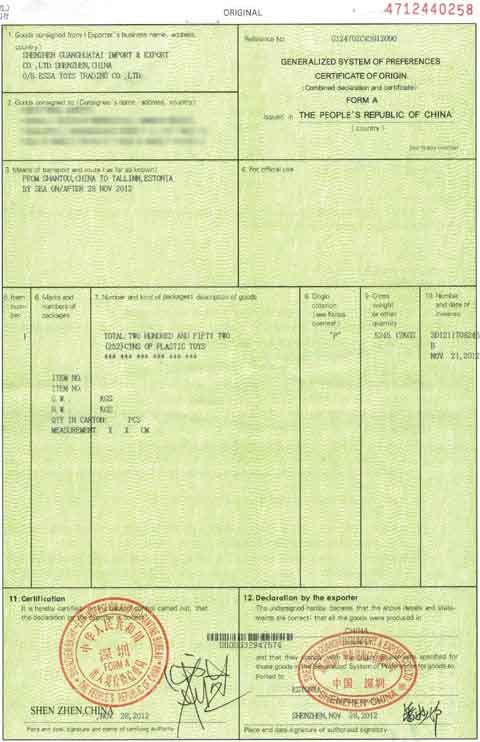 13.What is a BL?
"Bill of Landing is a legal document between the shipper of particular goods and the carrier detailing the type, quantity and destination of the goods being carried. B/L Including: (1)B/L No. (2)Shipper (3) Consignee (4)Notify party (5)Name of vessel (6)Port of loading (7)Description of goods (8)Quantity (9)Shipping marks (10)Gross weight; measurement (11)Freight and charges"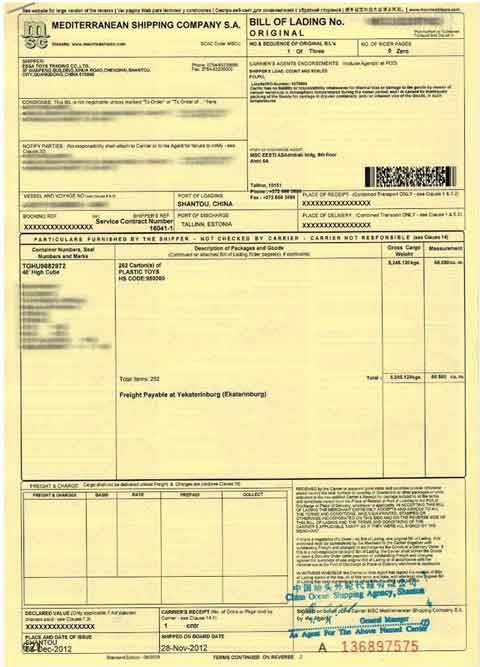 14.What is a telex release?
A telex release is a message sent by the shipping line or agent at the loading port to their office or an agent at the discharge port stating that the shipper or exporter has surrendered one or all of the original bills of landing that have been issued to them, and that the cargo can be released to the consignee shown on the bill of lading without presentation of any original bills of lading.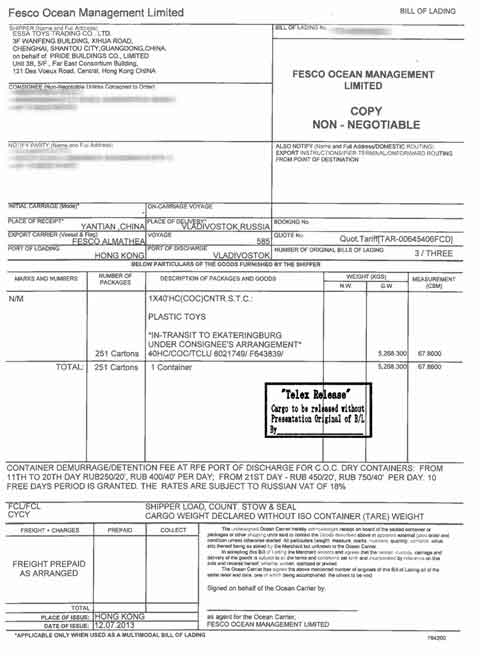 15.In what situation container may be inspected?
Customs Inspection refers to an act in the course of customs clearance checks or goods proofread data. Chinese customs officials can randomly choose any comtainer for an inspection.
16.How to select a shipping company?
Different companies have different shipping routes to choose from, every company has its main shipping routes, different shipping companies have different prices on the same route, different transit time, loading port can also be different. Meanwhile, price for one route with the same shipping company can be different in different times of a year. To choose a shipping company it is important to pay attention to real-time prices and delivery time.
17.What is customs clearance?
"Customs is a government agency responsible for regulating shipments entering a country or region. All shipments are sent to and from a country or region must clear customs first.Customs clearance is the documented permission to pass, that a national customs authority grants to imported goods, so that they can enter the country, or to exported goods, so that they can leave the country. The customs clearance is typically given to a shipping agent to prove that all applicable customs duties have been paid and the shipment has been approved."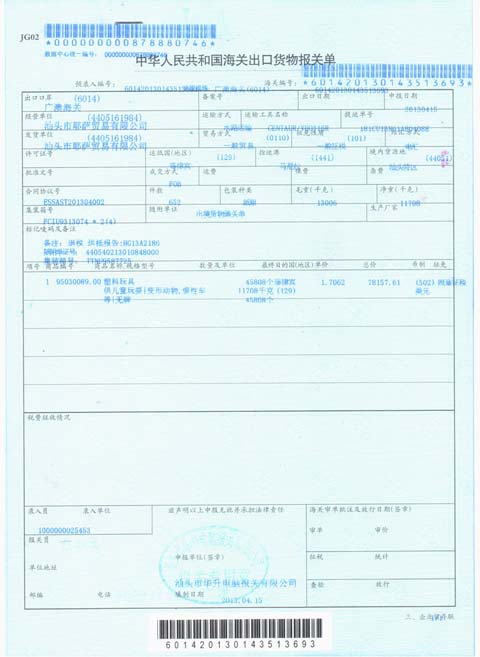 18.What is demurrage?
Demurrage means the period when the charterer remains in possession of the vessel after the period normally allowed to load and unload cargo (laytime). By extension demurrage refers to the charges that the charterer pays to the shipowner for its extra use of the vessel.