As we all know, B2B is also one of the mainstream trends in foreign trade. This article will list 17 global well-known B2B trading platform for enterprises to expand procurement and sales channels.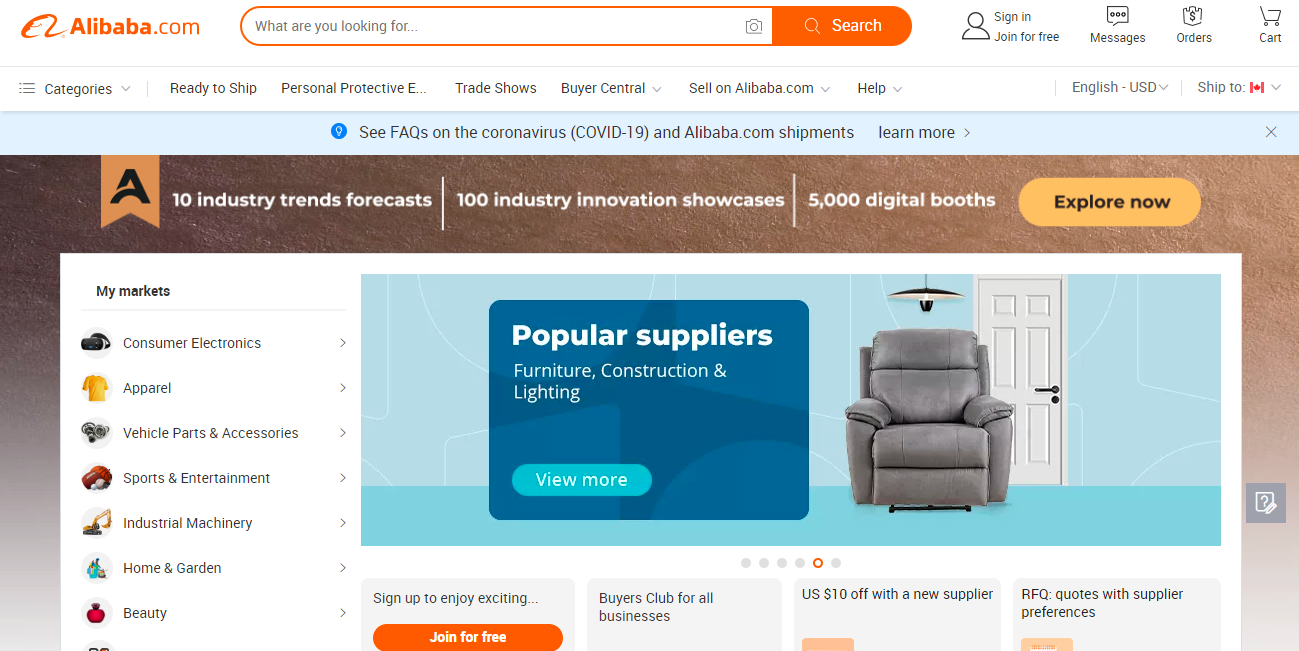 Alibaba is the world's largest B2B trading platform dedicated to e-commerce on the Internet, including business-to-business, retail and consumer sales portals. It also offers online payment services, a search engine and cloud data storage services.
Platform buyers come from over 190 countries. Suppliers can register for free and list up to 50 products, but to list more products they must purchase a membership.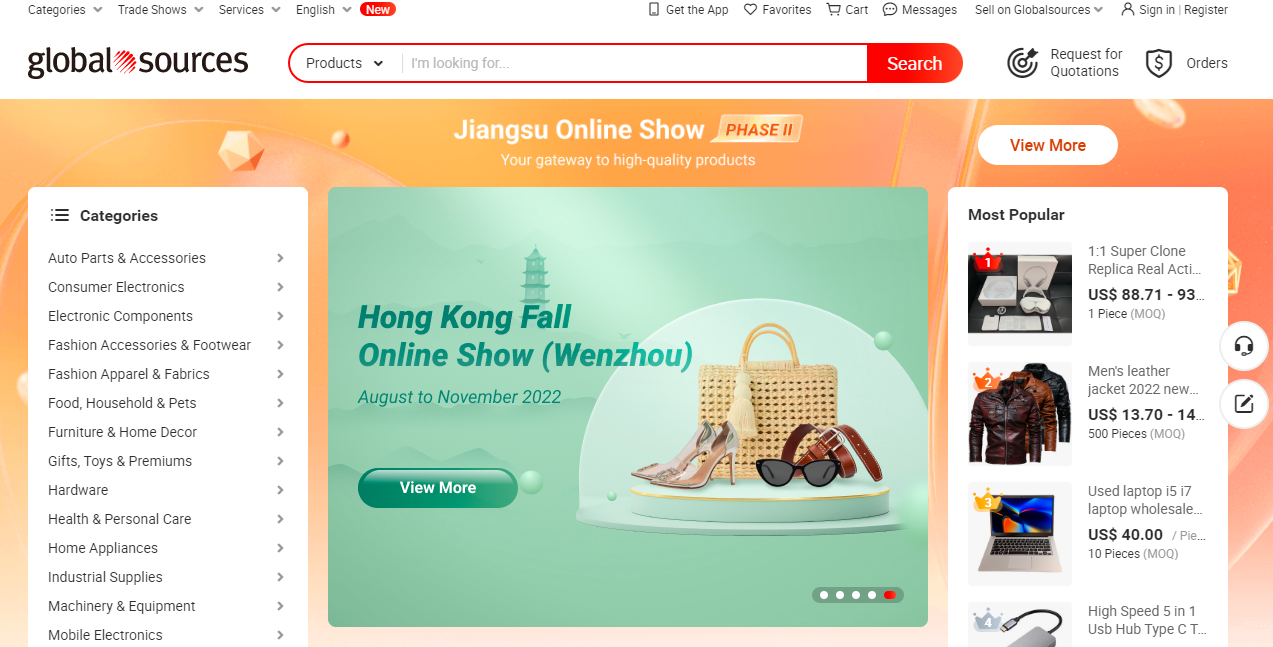 Global Sources is one of the first B2B platforms to be listed on NASDAQ under the GSOL name, headquartered in China, with 1.4 million sellers from around the world.
Global Sources allows suppliers to register for free and list up to 100 products. Most suppliers are from China, Hong Kong and Taiwan.
Like Alibaba, Global Sources is a directory of manufacturers and suppliers, mainly Chinese, to facilitate B2B e-commerce. The platform is associated with international trade fairs that take place in Hong Kong and involve well-known manufacturers, suppliers and distributors from mainland China, Taiwan and Hong Kong.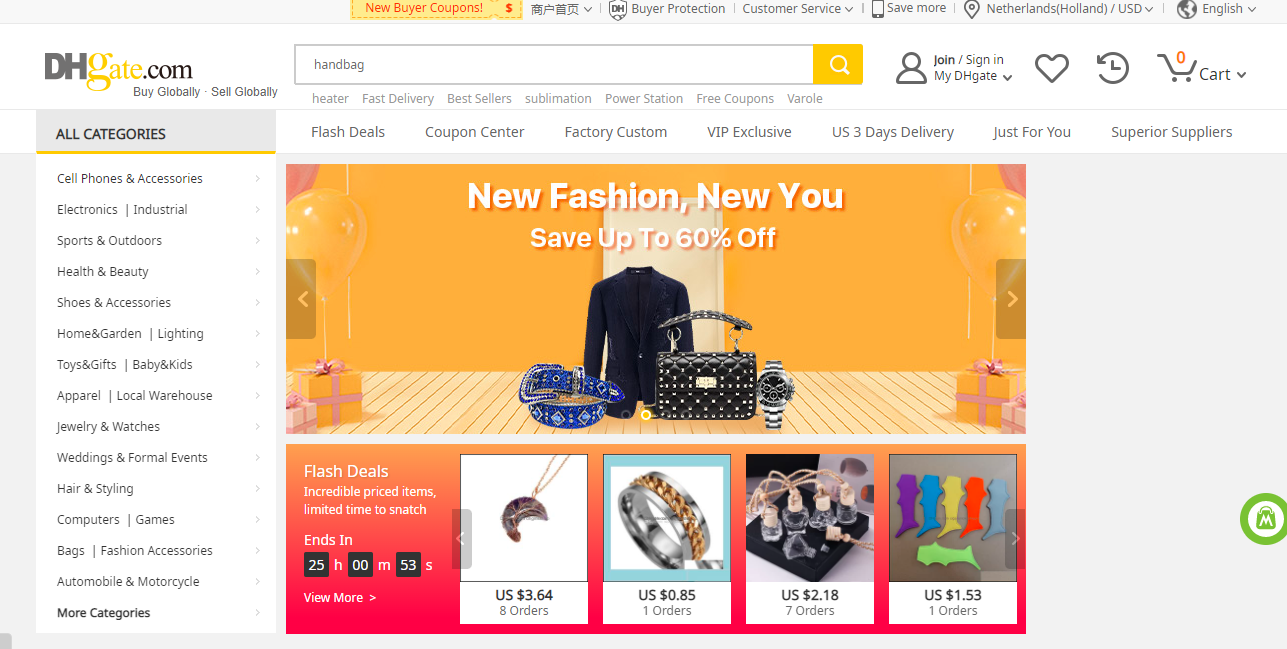 DHgate is a small B2B platform that allows importers from around the world to buy small quantities of Chinese goods at wholesale prices.
The platform has over 1.2 million international sellers supplying over 33 million products. It has 10 million buyers worldwide and supports English, French, German, Italian, Portuguese, Russian and Spanish. Vendors can register for free. In addition, Shopify supports the sale of Dunhuang's products.
Made-in-china was founded in 1996, which is one of the most popular Chinese online B2B portals in the world. It supplies more than 3,500 products. The platform supports 11 languages and has over 1 million suppliers with free registration. Made-in-china's main focus is to provide easy access and improved web-based trading solutions for SMEs to facilitate China's trade globally.
This is a Toprank service that randomly ranks your product information in the top 10, as each keyword only sells in the top 10; Of course, will be based on your needs, can provide different levels of service of senior members, but also to help your product information to foreign buyers recommended.
The price is moderate, the effect is okay, the inquiry email is targeted, and the Made in China inquiry system is a one-to-one delivery method: foreign buyers will see your product information after the inquiry email is only sent to your email, and it will not be forwarded to your peers or competitors, which is considered one of its major features, and the conversion rate may be improved as a result.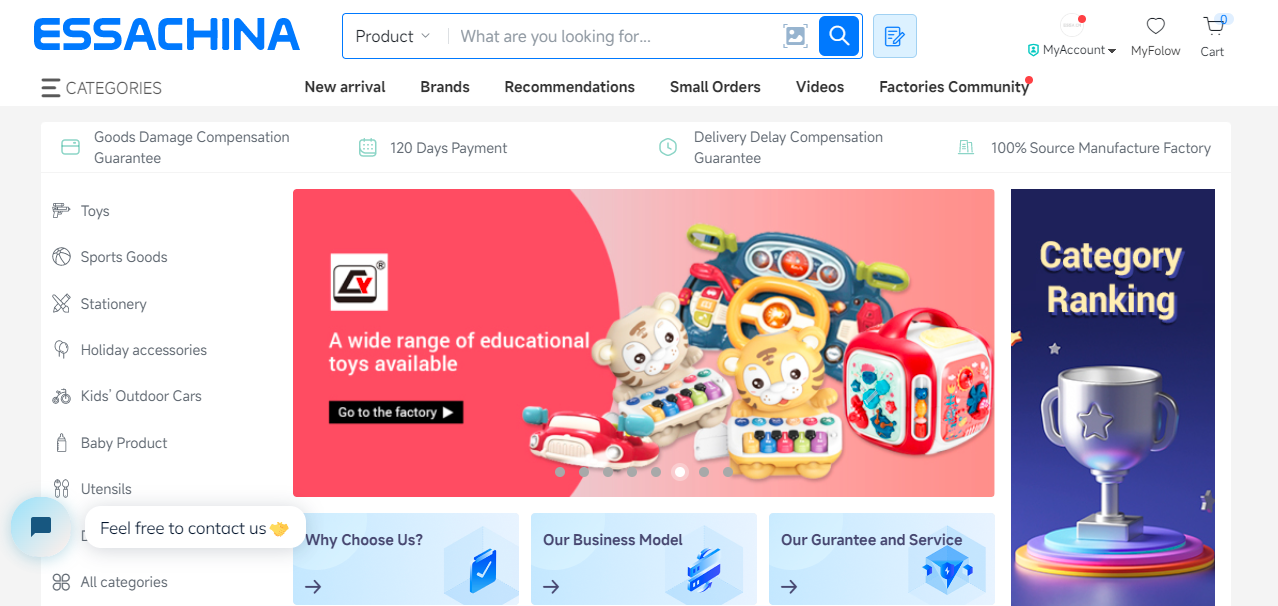 ESSACHINA is a B2B platform, aiming to break the barriers between factories and buyers and make sourcing more convenient. All the details and prices in ESSACHINA are directly posted by toy factory owners. ESSACHINA makes sourcing more transparent.
It is the latest and most complete toy category product library, but the platform has more than just toys, with intelligent product check early function, transparent procurement service, and first-line supply chain senior procurement team.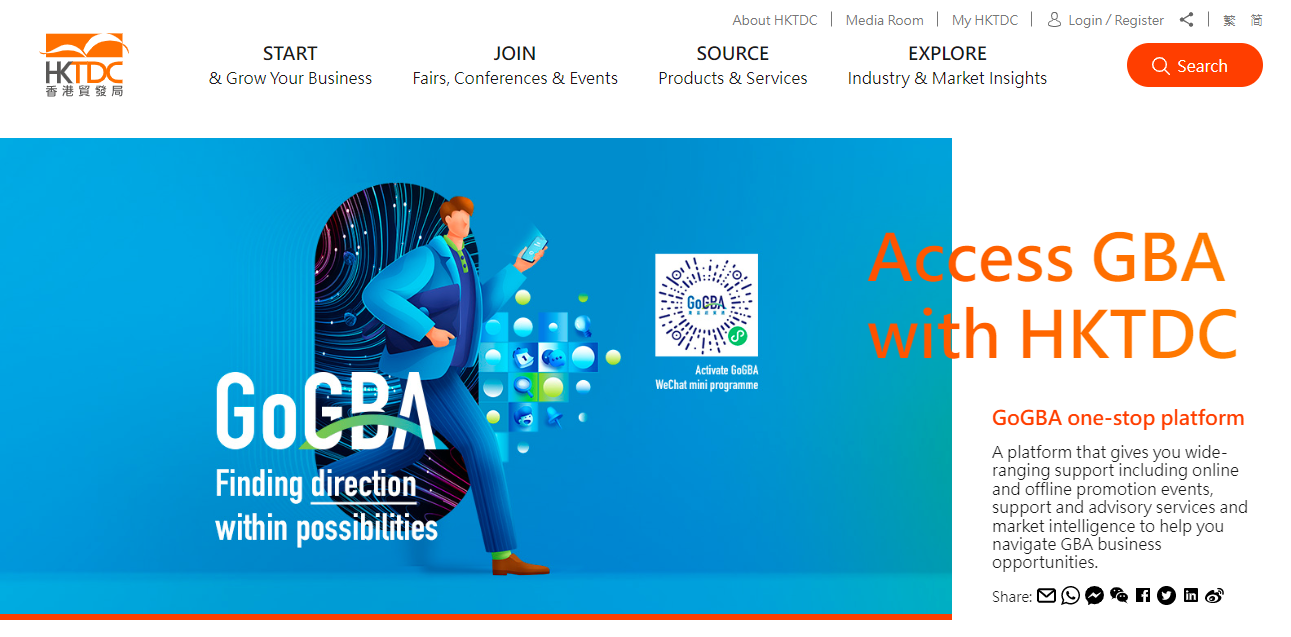 The platform has over 120,000 high quality suppliers from Hong Kong, China and Asia. It helps you identify trustworthy suppliers by providing referrals to suppliers provided by external organizations such as Dun&Bradstreet and Intertek.
This platform provides you with greater search flexibility. You can check thousands of certified suppliers and buy quality products in smaller quantities. You can also compare prices and minimum order quantities for instant contact and direct contact with suppliers for payment and delivery.
Buy Product Request - If a customer cannot find a suitable supplier in this online marketplace, they can post their purchase request for free. Thousands of quality suppliers are ready to meet the purchasing needs of customers.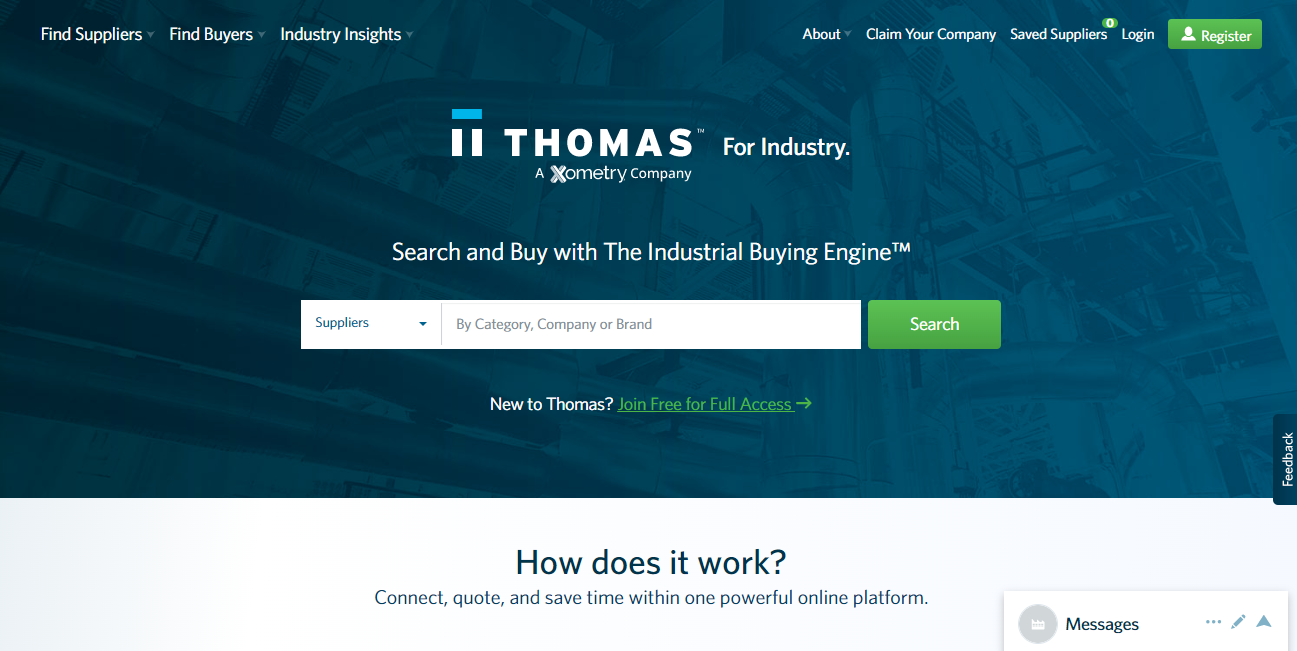 The U.S. B2B e-commerce platform ThomasNet.com focuses on allowing buyers to find suppliers and purchase products. Most of the transactions on the site are in engineering and manufacturing products. The site has 60,000 daily visitors.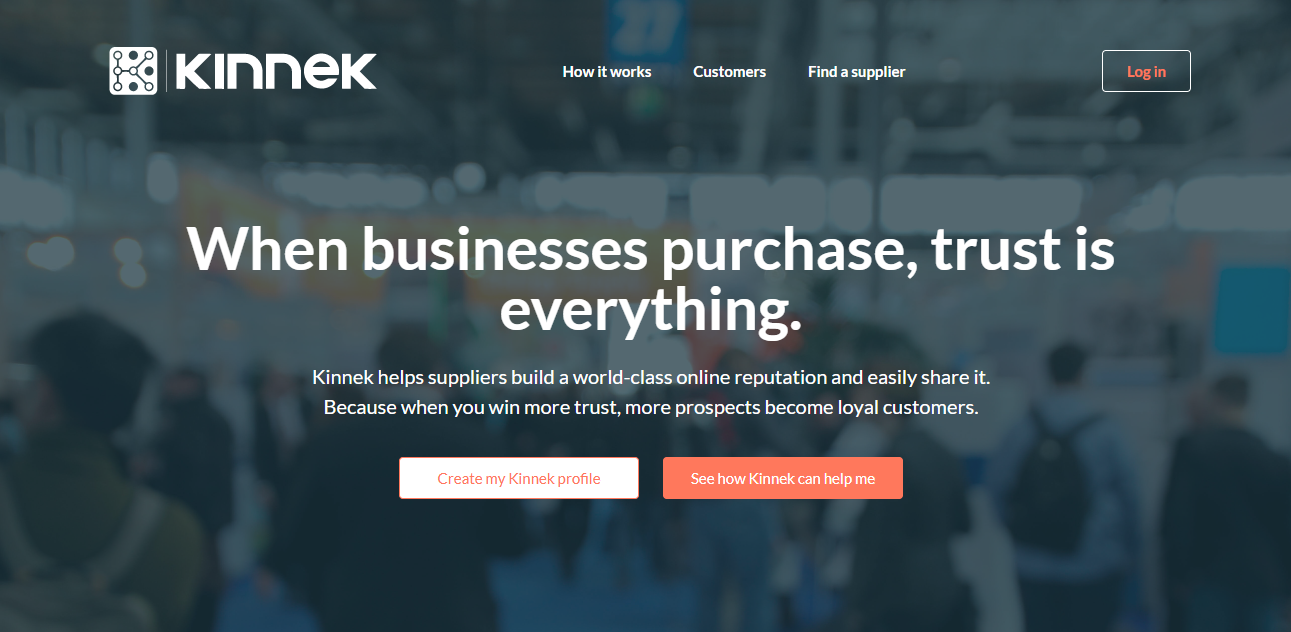 Kinnek, a U.S. online sourcing B2B platform, reviews all requests from suppliers, who pay a fixed monthly fee to receive buyer requests. It recently raised $10 million from Matrix Partners and others to continue expanding its marketplace into new markets and verticals.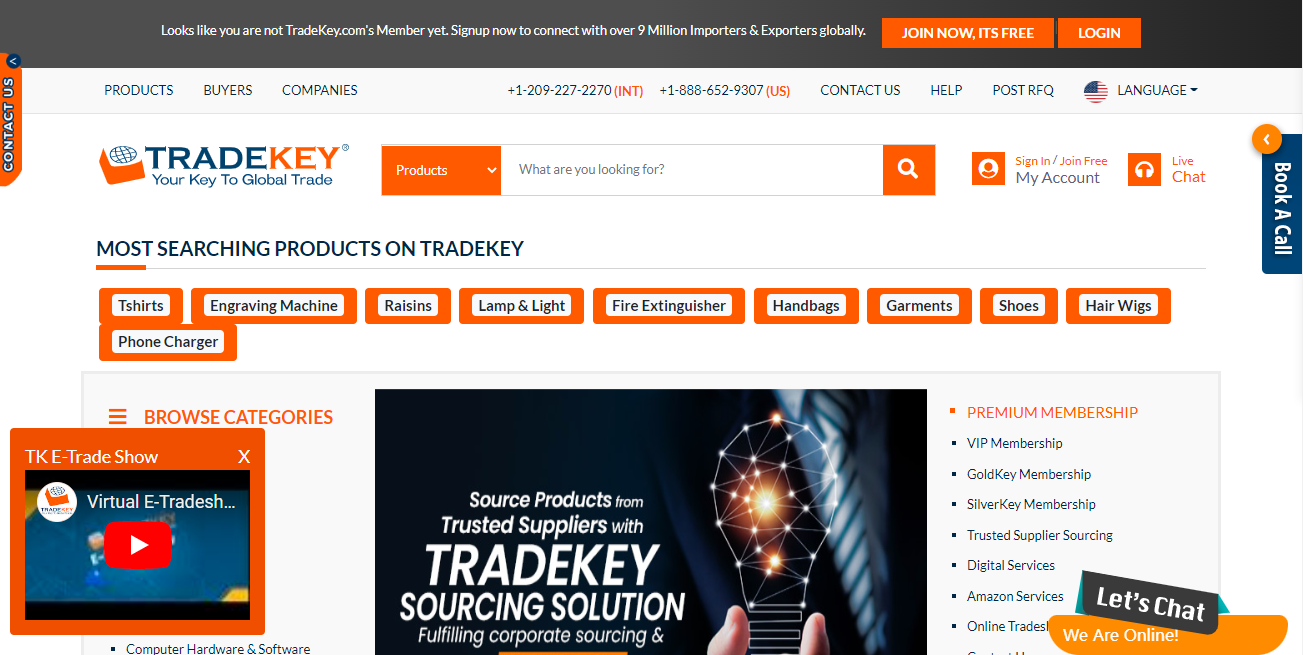 TradeKey is a B2B trading platform focused on supplying electronic products. The platform supports multiple languages (French, Korean, Russian, Arabic, Chinese, Japanese, Spanish and English) and is easily accessible to more than 9 million members. Suppliers can register for free.
In addition, TradeKey offers a program called WomenInTrade to support women running businesses.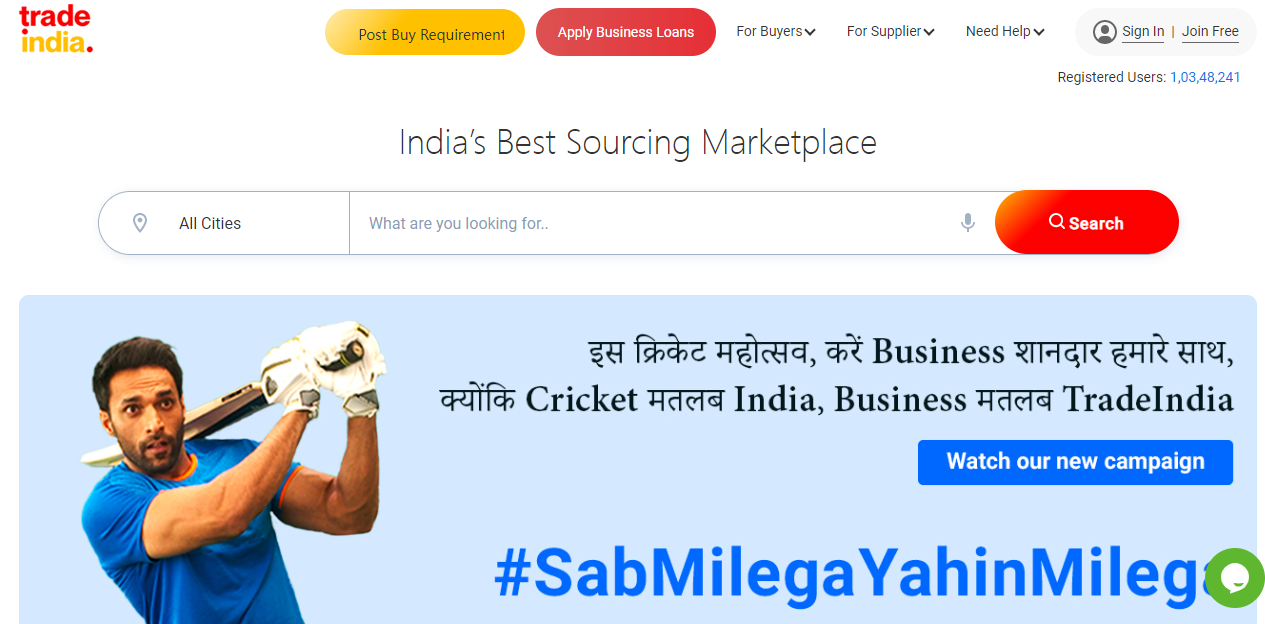 Tradeindia, established in 1996, is one of the largest B2B integrated e-commerce platforms in India, providing a platform for global sellers and buyers to communicate, and both sides can find suitable partners on the Tradeindia platform.
At present, the platform has 2.9 million registered members, and the platform brings together all kinds of products up to 2,250 kinds. Popular industries: fashion clothing, copper products and accessories, smart home, home textiles and home decoration, medical products, electrical and electronic products, etc.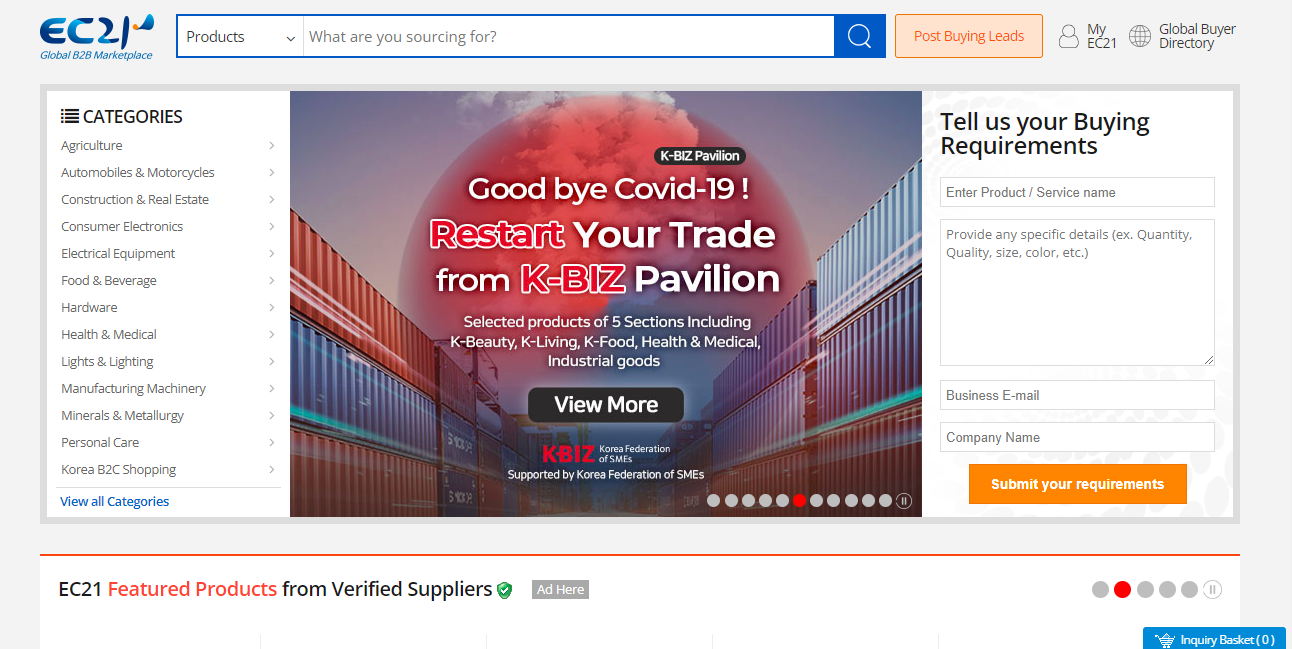 EC21 is a global B2B trading platform that supports multiple product categories. The platform currently has over 2 million suppliers, 7 million products, 3.5 million buyers, and 3.5 million visitors per month. EC21 is headquartered in South Korea, also its largest marketplace. The platform allows suppliers to register for free and offers a homepage with up to 15 free product uploads.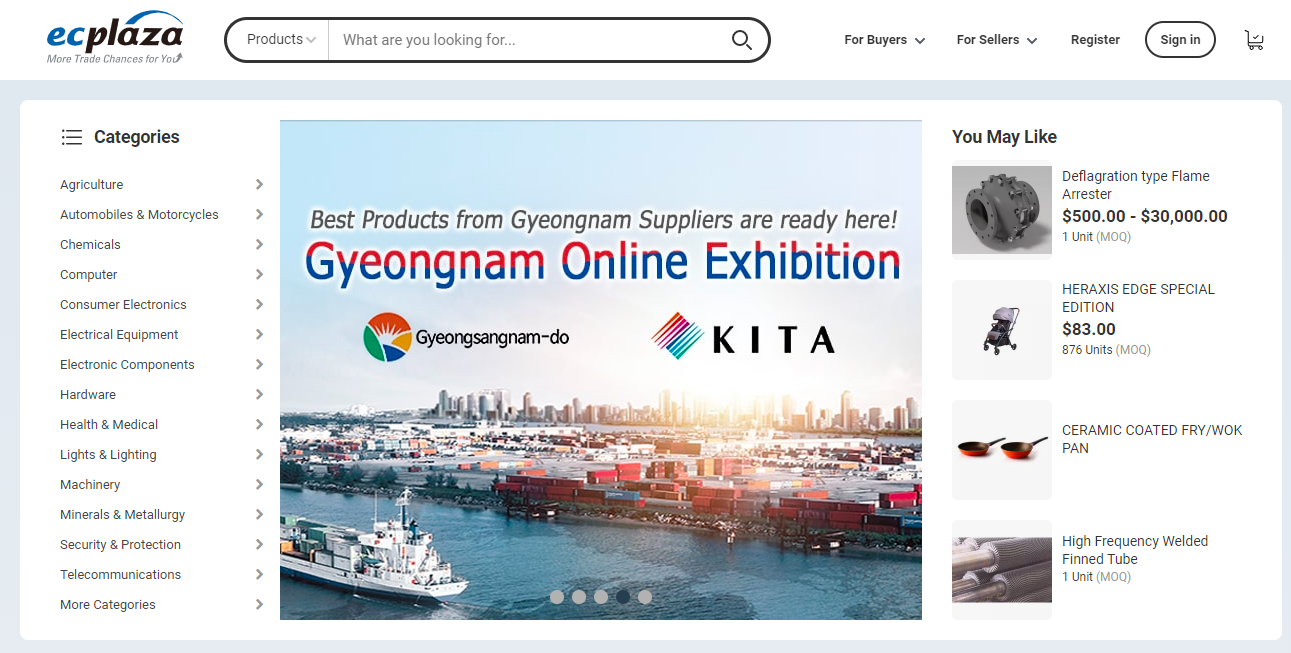 EC Plaza is one of the fastest growing B2B websites in Korea, launched in four languages: English, Chinese, Japanese and Korean. EC Plaza started as a B2B trading portal in 1996, EC Plaza has grown to be the first online trading platform providing online and offline services to over 400,000 members. This online b2b platform not only operates B2B websites, transaction consulting, and EDI services, but also provides offline transaction related services for SMEs based on export marketing.
With a worldwide network and high brand recognition, we are expanding our business area to global markets by providing important values such as more business opportunities, cost savings and convenience.
With over 4 million offers posted, this is the largest in the world. In addition, the site sits at the top level of some of the leading ranking platforms such as Rankey, Alexa, 100 HOT, etc.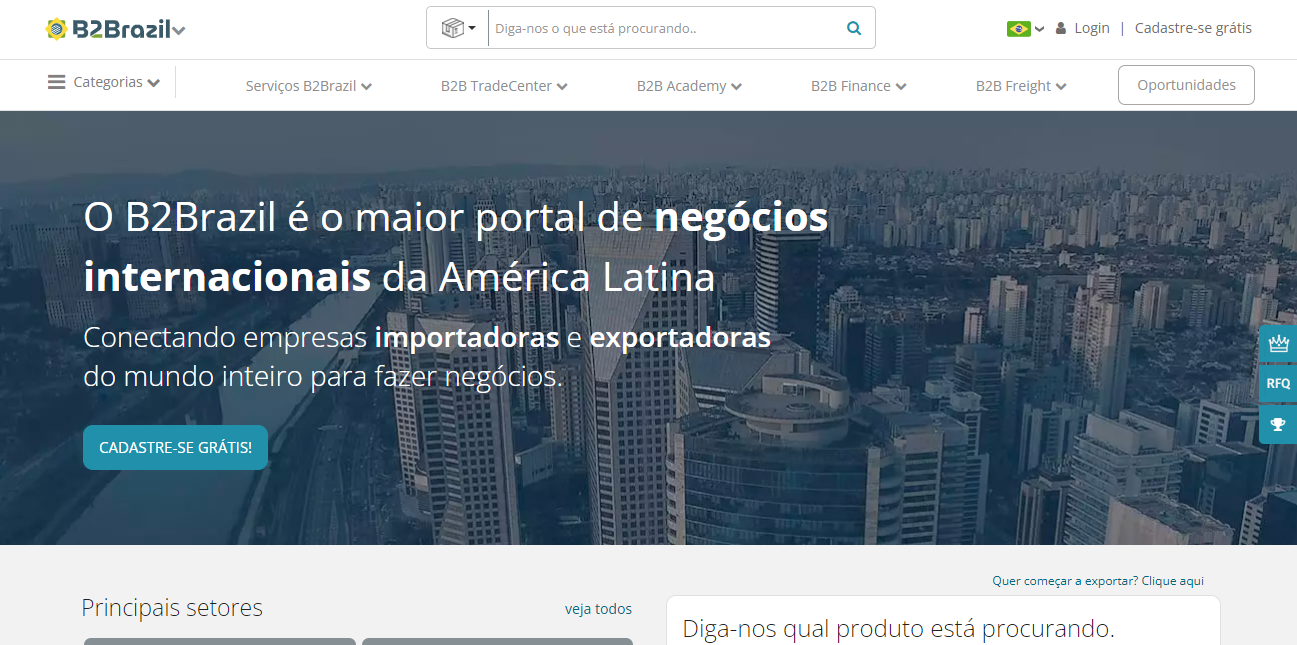 B2Brazil platform, located in São Paulo, Brazil, is a Brazilian online B2B platform, the gateway to Brazilian trade. The platform has established strategic partnerships with major companies, associations and government agencies, is built in bilingual (English-Portuguese), and is the only B2B international trade platform in Brazil trusted and partnered by Google, dedicated to advancing the development of Brazilian SMEs and promoting international companies to expand their business in Brazil.
Popular industries: food industry, chemical industry, plastics, machinery and equipment, construction, agriculture, pharmaceuticals, mechanical metals, petrochemicals, automotive, resins and coatings, oil and energy, textiles, beverages, cosmetics, mining, etc.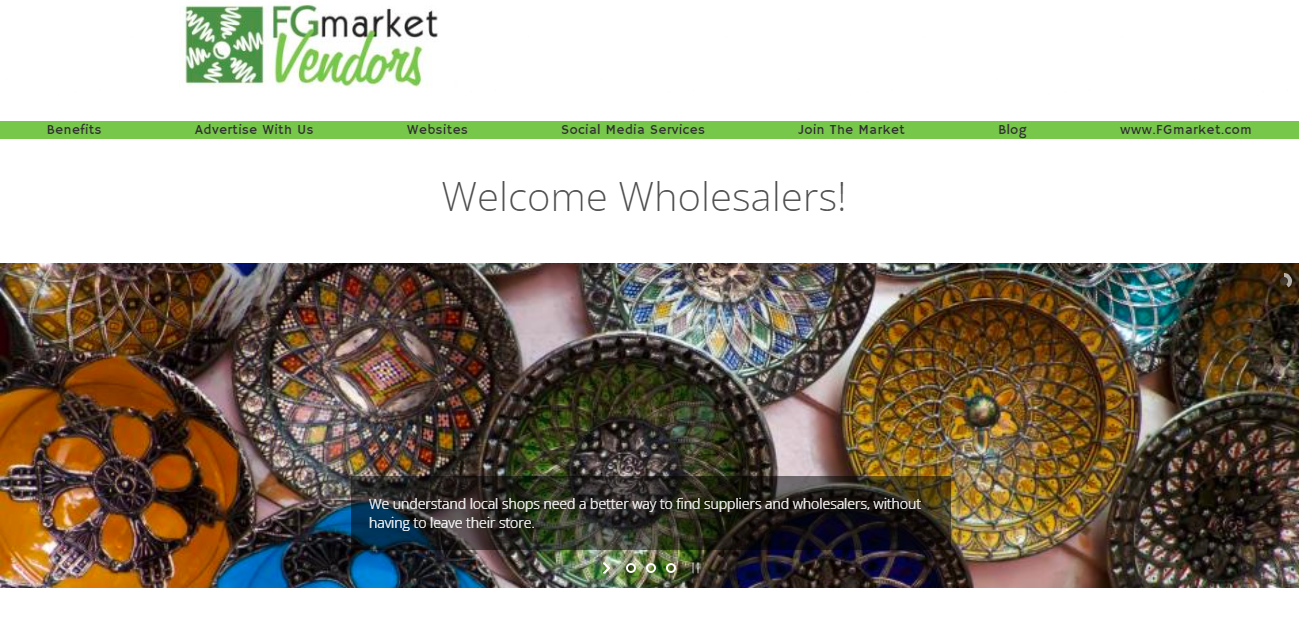 FGMVendors is a B2B trading platform featuring an online trade show. Suppliers can showcase their products to over 20,000 active buyers.
Most of the buyers are retailers with brick and mortar stores who are looking for wholesale items to sell. Suppliers pay an annual fee of $449.99 to list their products and sell them here.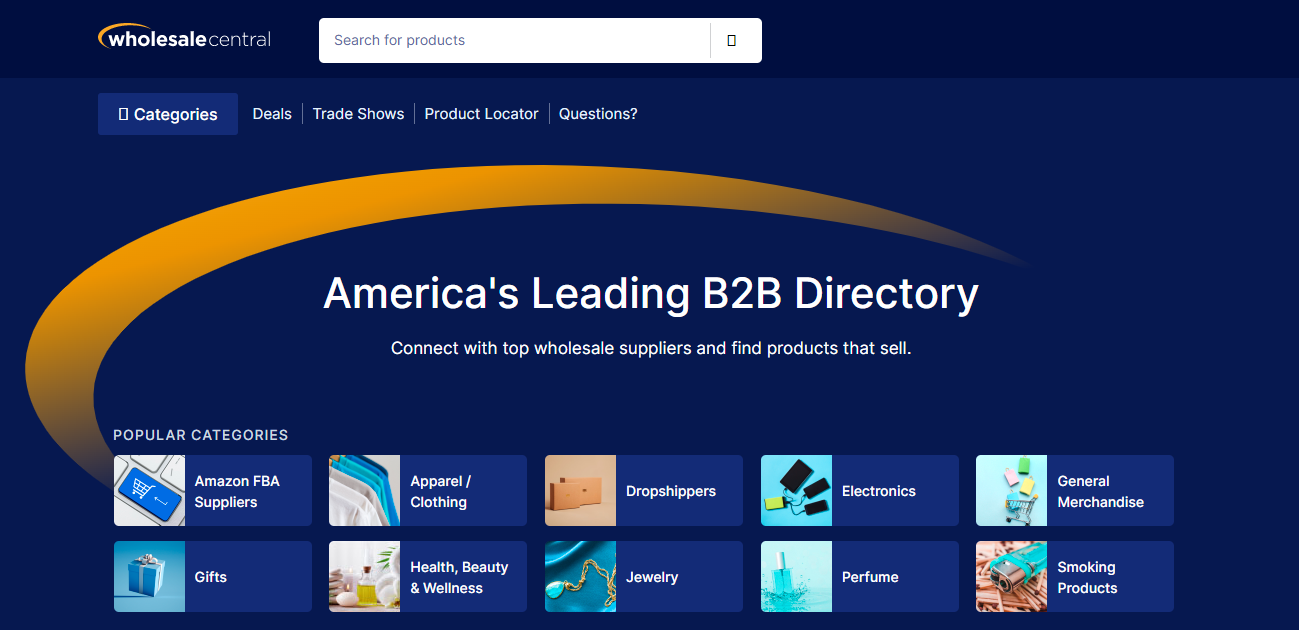 WholesaleCentral is a supplier directory. Buyers can search and click on a supplier's profile and then buy directly from the supplier's website. To reduce fraudulent transactions, the site reviews each supplier on a merit basis. Suppliers can pay $399 for six months of display time on WholesaleCentral.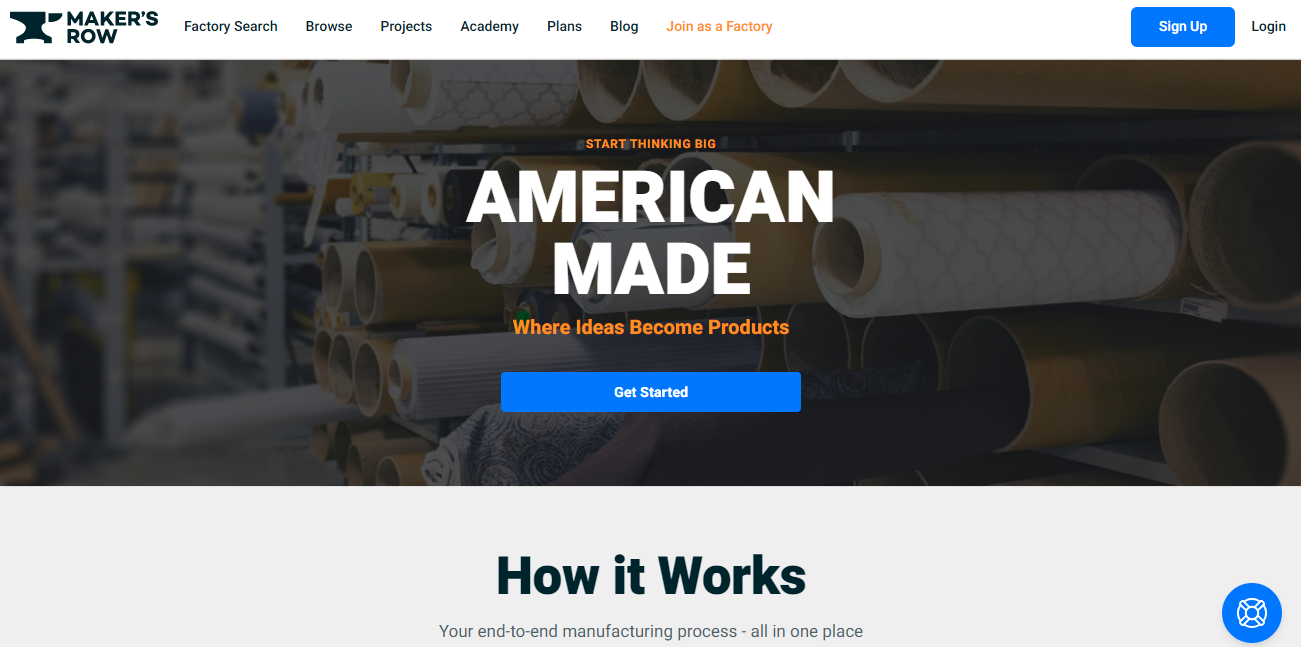 MakersRow is a B2B trading platform. Here, small businesses can easily find manufacturers and suppliers who can meet their product sourcing needs. Currently, the site has over 10,000 manufacturers and 100,000 brands and has generated over 2 million products. Suppliers can sign up for a free basic account, and all buyers must sign up and pay a $35 monthly basic account fee.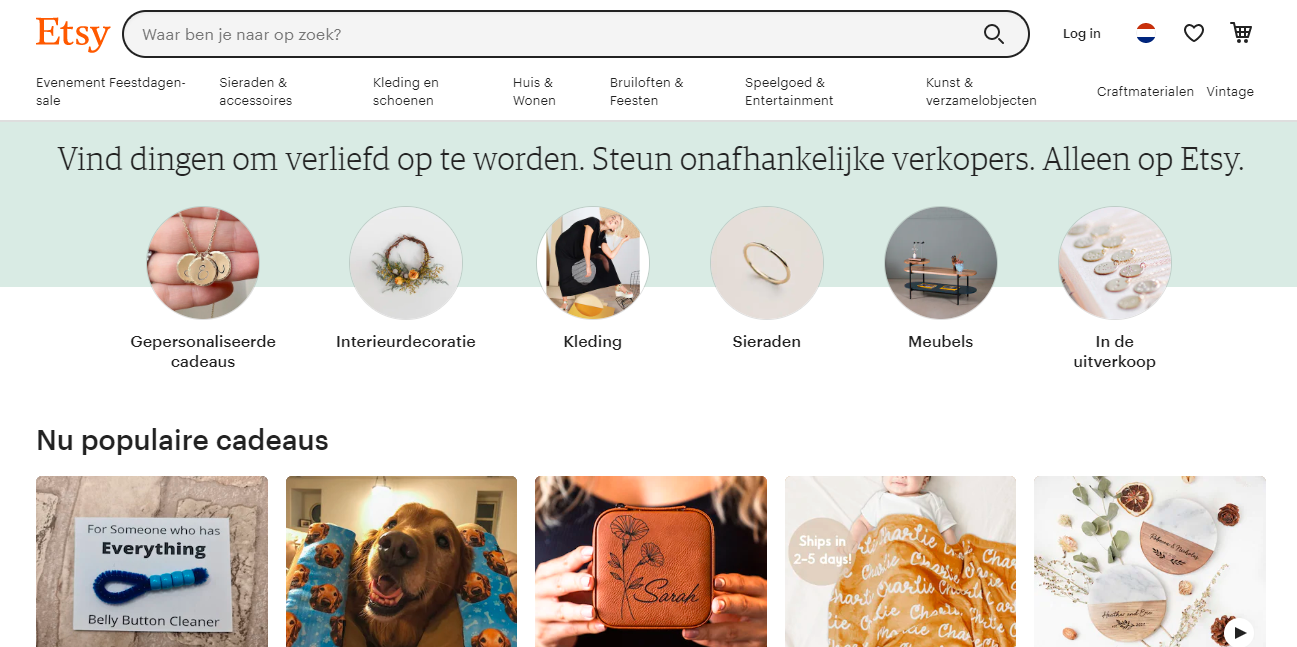 Etsy Wholesale, a B2B marketplace where buyers can purchase clothes and accessories offered by small businesses. Remarkably, wholesale prices are at least 50 percent lower than suggested retail prices. Suppliers can sign up for free, but Etsy charges a 3.5% fee per transaction.